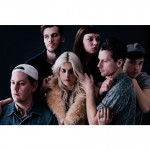 Date : May 26, 2016
Début : 22:00
Style : Dark Soul, Rock'n'Roll
When you name your band after a sad country song, it could become a self-fulfilling prophecy. There's nothing country about the dark, synthy rock n roll sound of Thanks, but they capture those classic country themes of heartache, sorrow and dancing with your devils…but with punch and a middle finger in the air.
Thanks was formed as a 6 piece of strangers, couples and old friends in 2011. The name came first and the sound followed.
That sound is dark, deliberate, and punchy. The songs, though crafted and tight, stay wild. There's power, growl, emotional depth and also, somehow, this bright inescapable pop. They've found a strange and important balance between ripping you up and catching you with hooks. There is a soul in this music. It breathes and bleeds and moves. And live, they 're fun as hell.
Their first full length, Blood Sounds, was released in early 2014 to high praise and their sophomore release, No Mercy in the Mountain is due out early this fall.