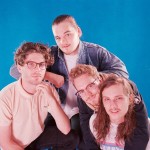 Date : April 21, 2018
Début : 22:00
How does an artist have a worldwide fanbase and millions of streams without any major record label support or management?
The internet is a wonderful thing, something VACATIONS know a lot about.
They're the local sweethearts of Newcastle, Australia. Led by frontman/emailing enthusiast Campbell Burns, and backed by Jake Johnson (Bass), Nate Delizzotti (Lead Guitar), and Joseph Van Lier (Drums), their take on guitar pop music has won over a devoted fanbase in their hometown, and overseas. A part of the No-Fi music/arts movement, Vacations are no strangers to wild house parties, packed out rooms, and nation-wide tours where they've earned their stripes performing live.
Vacations is currently gearing up for their debut album and a world tour for 2018 off the back of their successful 2nd EP, Vibes. The gang did a coastal tour of Australia which included their first festival date (Mountain Sounds) and was backed by press and even the record label IOHYOU. When things seemed like it was dying down after their tour, an American fan uploaded the EP to YouTube where it gained over 100,000 views in three months. This led them to join Human Sounds Records, a label based in Atlanta who issued a tape run of Vibes + Days (1st EP) selling out almost instantly twice over. The label uploaded both EPs onto Youtube where it's gained 750,000 hits over six months. These kind of stats aren't unusual to Vacations on Spotify either, with 1,000,000 streams and rising. Their 2nd film clip for 'Home' off the EP was shot entirely in Seattle and they've got fans, friends, and other bands all over asking them when they'll be coming for a visit and maybe a tour or two.
Vacations show no signs of slowing down anytime soon. With new material on the way, it's early day's in the bands career.