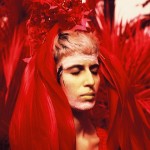 Date : February 7, 2019
Début : 22:00
Style : Electronic Pop
En collaboration avec le One Of A Million Festival
"Equipped with a childlike voice — think Joanna Newsom — Surma masters every instrument that is around her. She studied double bass in a jazz school, but that never stopped her from learning every instrument she could reach. Her sonic blend combines ambient music, post-rock and jazz influences. The result? A really unique, warm and intimate sound. Ethereal melodies created by a one-woman-band that will take you to another place." – Europavox
"An exquisitely beautiful first track, it's truly an otherworldly journey – through a shimmer guitar line, and Umbelino's Bjork-esque vocals – there's elements of Portishead and Daughter thrown in for good measure. This demands repeat listens." – Crack In The Road
Surma has already appeared on the most important portuguese festivals and toured Spain, France, UK, Sweden and Germany. The young artist plays guitar and bass while her music is an unusual mix of different electronic sounds. She combines these sounds with the help of loop pedals. The result is wonderful music that lies in between jazz and ambient music.
The Portuguese musician has only just started her career and her debut album has just been released last october in Portuguese market.
Being confirmed for the 2018 editions of Europsonic and SxSW, Surma has crafted an intimate sound that is all her own, the multi-instrumentalist is proving why her voice truly has to be heard.
PAGE FACEBOOK