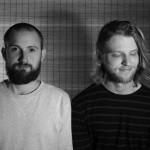 Date : November 16, 2017
Début : 22:00
Style : Alt Folk
'A cross between The Tallest Man on Earth, early Bon Iver and The Lumineers'
From Matthew Lowe (Keston Cobblers Club) and Daniel Trenholme, comes the new alt-folk duo Stables.
Stables was formed at the end of 2015 during late night drinks between Matthew and Daniel in London. Matthew was working on a new project idea at the time and, after playing through what was to become their first single, 'Steam', at 5 am, the duo was born, and quickly went public four months later. 'Beyond Brushes' (their debut album) was released  to critical acclaim just nine months after, in August 2016, and was championed by the likes of BBC's Steve Lamacq, and BBC6 Recommends (amongst others), soon establishing them firmly on the circuit, with a growing fan base.
Stables have gone on to tour the UK further, performing at major festivals including Glastonbury Festival, and now have a full European headline tour announced for Autumn 2017.
Stables' second album, 'Reverie', has been announced for release at the end of February 2018