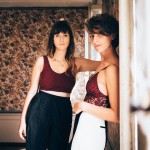 Date : January 23, 2020
Début : 22:00
Style : Indie Folk
Band of girls with brand new bangs. Just your typical Swiss-Irish-Italian folk rock duo.
Our musical journey began when we met at school – meaning we grew up together and our songs grew up with us. Our friendship makes our music a natural blend of both of us, and our sound as one.
What don't we do together? Well, that's a good question. The answer is not much, as our time is largely spent writing, recording, performing, touring and developing as a duo.