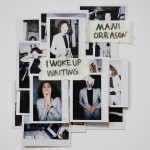 Date : April 19, 2018
Début : 22:00
In collaboration with  Visions Du Reel documentary film festival
MÁNI ORRASON – I Woke Up Waiting-Tour 2018
- presented by noisiv.de & The Pick -
At just 16 years old, Icelandic singer-songwriter Máni Orrason released his debut song Fed All My Days to critical acclaim. The catchy pop/folk sound of the song instantly put the youthful talent into the spotlight and onto festival stages. His debut album Repeating Patterns and the following Wake Me Up EP already showcased the young singer-songwriter and multi-instrumentalist's promising talent and potential.
On his sophomore album I Woke Up Waiting, the now 20-year-old songwriter's maturity shines through. Máni doesn't just demonstrate his exceptional gift for songwriting and composing – he opens up about the initial struggles and hardships he faced following his decision to pursue music. Making the album turned out to be a cathartic process for Máni: "It felt as if there was nothing worth waking up for. I didn't know where I wanted to go. I hope that people that are going through a rough patch of time and feel lonely can find solace in this album, the way that I found solace in my favourite albums."
Each of the 9 tracks on the album is accompanied by a short video. Putting a face to his name felt important to Máni, given how personal and intimate the album is. The album itself is as multifaceted in the emotions it conveys as it is diverse sonically: at times melancholic, yet never without hope. From the Kurt Vile inspired Mother's Milk, to the lighter pop sound of Let Me Tell You Stories and the very introspective title track I Woke Up Waiting, Máni covers all bases and displays a wide palette of emotions, singing about issues like his depression, anxiety and bulimia while never indulging in self-pity or taking himself too seriously. Therein lies Máni's greatest talent: channeling his own personal experience into sharp and poignant lyrics with universal appeal. I Woke Up Waiting is an authentic and intimate take on the coming- of-age album and a treasure to all those who may recognize themselves in its lyrics.
From March 23rd on Máni is embarking on a month long album tour, telling his story all over the Netherlands, Germany, Austria, Switzerland & Iceland.