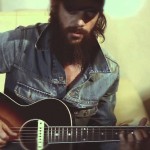 Date : April 14, 2018
Début : 22:00
In collaboration with Visions Du Reel documentary film festival.
Fifteen years Gipsy Rufina rolled and rambled around playing thousands of shows across Europe, Eastern countries and South America, daring sometimes places where few others did.
Hoboing in a pure outlaw troubadour spirit he constantly toured from 2005, picking the lines of his narrative, coming from his life, obscure sometimes, simple others but still deep, soaked with grace and far from a cheesy songwriting.