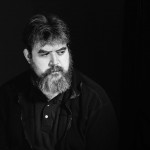 Date : February 2, 2019
Début : 22:00
En collaboration avec le One Of A Million Festival
With a baritone as dynamic as it is indestructible, Daniel Knox narrates compositions with a perverse and sometimes comical wit, guiding the listener through sprawling worlds that exist just out of frame.
His work has inspired a diverse cast of collaborators that lie inside and outside his realm of alternative Americana, such as Jarvis Cocker, Thor Harris (Swans, Freakwater), and The Handsome Family with recent performances that include the likes of Rufus Wainwright, Andrew Bird, and Swans.
On his most recent self-titled effort (Carrot Top 2016), he guides the listener through narratives of time travel, middle American abandon, forgotten landscapes and the people who live there. Knox lives and works in Chicago.
On his most recent release Chasescene (featuring guest vocals from Jarvis Cocker and Nina Nastasia), Knox welcomes you into his world, taking the role of both narrator and resident, surrounded by characters from every walk of life – observed intimately from a distance and without judgement.