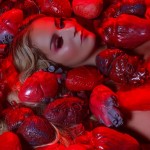 Date : October 19, 2019
Début : 22:00
This Canadian born, LA based singer/songwriter/producer isn't afraid to walk the edge in sound and in vision.
Puking rainbows, gun to head, exploding animals, human road kill, a pregnant woman on a corss… she will put herself in the way of comfort in order to bring her message, vision and feelings into the forefront, displayed through her lovingly charming Canadian personality.
ANIIML's live show utilizes interactive 3D mapped visuals projected onto a human-animal sized cage which surrounds her. The show leads the audience through a journey from embryo into confinement and ultimately freedom creating a one of a kind performance.
ANML's newest 6 song ep, RELEASE! plunges into the unavoidable letting go's of life; from death to reawakening, while living true to her coined genre, "avant-pop".
While her last album, WE.ANIMALS. was a bridge between her music and her passion for animal rights and environmentalism, her new album is more of a personal thinking and emoting driven by her thunderous rhythms and production.