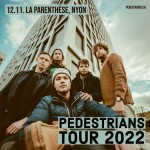 Pedestrians Tour 2022
Take Off!
Finally, it's happening: After a long break Pedestrians will be back on tour through Switzerland in autumn 2022. It's what the band has been longing to do and lives for passionately. Pedestrians are en route with brand new tracks and lots of energy and love to give. Be prepared for their electrifying and moving shows. Finally, it's possible: Let's celebrate closeness!
Pedestrians are known to deliver live performances that are dynamic and full of energy. The band can look back on an amazing list of heartfelt shows at international music festivals and clubs (Switzerland, Germany, Netherlands, France, UK, etc.).
Doors: 21:00
Show: 21:45
Tickets: show is offered by the parenthese foundation