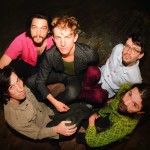 Following his youth in Wimberley, TX, playing blues, manouche jazz, and western swing in bars and dance halls across the state, Buck moved to Brooklyn and released two solo EPs, Live from a Volcano (2013), and Heart Was Beat (2015).
Concurrently, he met songwriter Adrianne Lenker in 2012, and after a year of fervent collaboration, they recorded two EPs, A-sides and B-sides (2014), then from there expanded into a four-piece, Big Thief, with Max Oleartchik and James Krivchenia, and have since released four records, Masterpiece (2016), Capacity (2017), UFOF (2019), and Two Hands (2019).
In 2018, along with Austin based label Keeled Scales, he released a self-titled LP, Buck Meek – a kaleidoscope of human relationships; of widows, daughters, flight attendants, best friends, bar flies, neighborhood heroes, and troublemakers, that illuminates mysticism in the temporal, humor unearthed in tragedy, the strength of vulnerability, and the words unspoken that elucidate love. In late 2018, he moved to the mountains north of Los Angeles and wrote many of the songs for Two Saviors, recorded with the same players that you hear on Buck Meek, who have circled the country together on tour numerous times in the years between.
While Buck Meek is a yarn of blue-collar fairy tales and character driven narratives, Two Saviors emerges as a cathartic, naked confession of heartbreak, resiliency, and enchantment.
www.buckmeekmusic.com
https://www.instagram.com/buckmeek/